((Ooc: Whew. Took me forever to get that picture of her on there!))
Name:
Merilla Von Helix
Age:
641 years old
Alias:
Dragon Lady
Costume: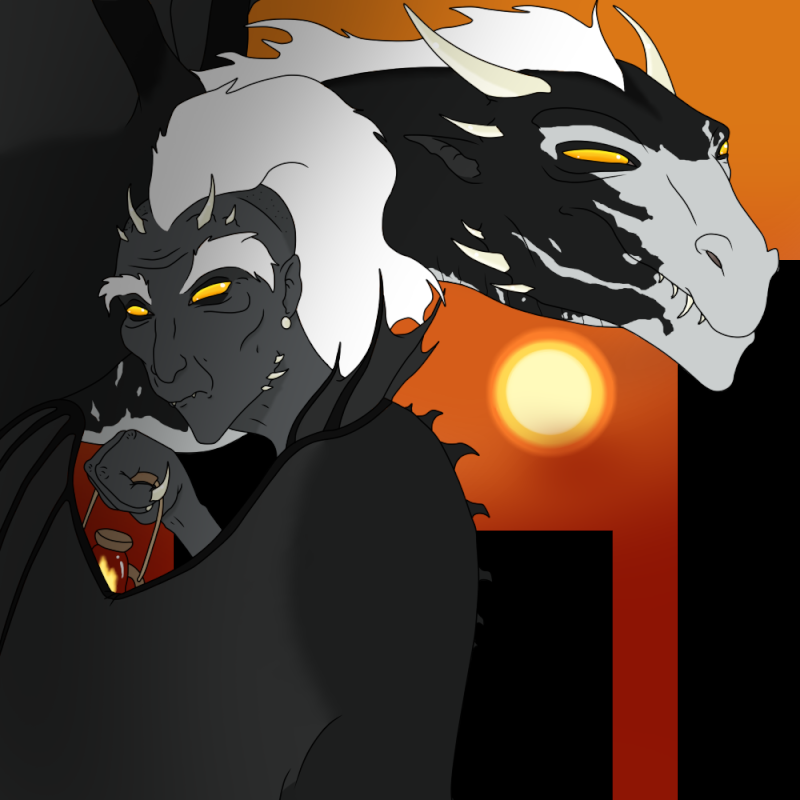 Her robe is a hand-me-down from her long dead monarch family, tailored to look like -- you guessed it -- a dragon. The sleeves are long and ribbed, and all along the back of it down to the tail are spines to complete the look. Fin-like protrusions form the collar.
Powers:
Limited super strength due to advanced age; can turn into two-story dragon (four limbs, two wings); breathes fire
Personality:
Grouchy and cynical most of the time, with a small stench of arrogance, especially towards humans. She gets friendlier if you spend time with her.
Physical Description:
5'12 when standing straight; almost always hunched over, moves slowly most of the time, and boney. Due to hatching out of an egg when she was born, Merilla doesn't have breasts, or even nipples. Her pupils have all but faded from her age.
History:
Merilla used to belong to a powerful noble family in the 15th century, though they were looked down upon from peasants and royalty alike. After one of her sisters was proposed to by one of the monarchy heirs, the king commissioned for her entire family to be assassinated overnight on the grounds that they were demonic beings seeking to destroy the world. Only Merilla was spared; she had been flying above the clouds when this happened. When she returned to see the carnage, she knew she was in danger. Leaving her castle of a home behind, the dragoness bounced from cave to cave all around the world, hiding from humans.
That was 600 years ago. She doesn't hide as a fugitive anymore, but as a relic of the past too old to fit into modern society. She'd moved into a cave near but not quite a part of Aurora city after hearing that it was under the protection of the local super heroes. In her own mind, their presence might help keep her from being mobbed. Perhaps, if she stays out the way, this society that embraces super heroes can embrace her, too.
Miscellaneous Notes:
-Want to visit her? She won't invite you for tea, but she won't force you out of her home, either.
- She hides some items in a small pile in her cave. This is her hoard of "treasures", things with sentimental value that she had collected over the years. This can be used as leverage against her, as well as human lives. Much as she hates them, the ones that did nothing wrong have a place in her morality.

Dragon Lady




Posts

: 9


Join date

: 2013-11-17


Age

: 96


Location

: Hidden cave, near Aurora City



Approved! Not that I have any real power here...

The Slick Lady




Posts

: 12


Join date

: 2012-09-10


Age

: 35



Aww ... thanks, Slick! If I may call you that ...

Dragon Lady




Posts

: 9


Join date

: 2013-11-17


Age

: 96


Location

: Hidden cave, near Aurora City



Similar topics
---
Permissions in this forum:
You
cannot
reply to topics in this forum